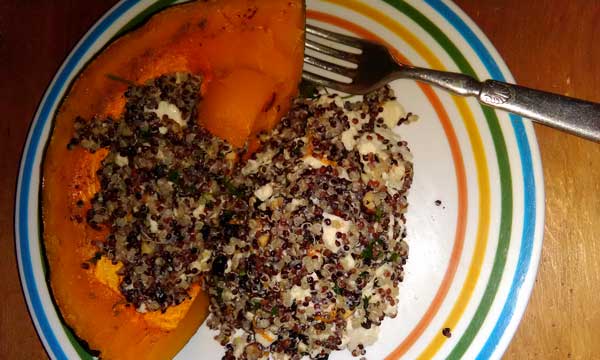 This dish is very colorful and flavorful. You can vary the ingredients depending on what you like and what's available for you.
Ingredients:
2 small squash (Delicata, Acorn, Buttercup)
3 tablespoon olive oil
Salt, pepper, cinnamon to taste
1 onion, chopped
2 cloves garlic, chopped
1 cup quinoa
2 teaspoon fresh thyme leaves
¼ cup dried cranberries
6 cups leafy greens, chopped (Swiss chard, spinach, beet greens, kale, collard greens)
8oz Silvery Moon Creamery Cranberry Foxtrot (or Queso de Verano, Casco Bay Dulse)
Place rimmed baking sheet in oven and heat oven to 425°F. Halve each squash through its center; spoon out seeds. Rub squash with 1 tablespoon oil and season with salt, pepper, and cinnamon. Arrange on baking sheet and roast, cut side down, until tender, 25 minutes. Turn squash over, roast until tender.
Meanwhile, heat remaining 2 tablespoons olive oil in saucepan. Add onion, cook for 5 minutes. Stir in garlic, cook for another 2 minutes.
Add quinoa and toss to coat, then add thyme and 2 cups water. Simmer covered for 10 minutes. Stir in cranberries, simmer for another 5 minutes or until water is all soaked up by quinoa.
Remove from heat, stir quinoa with a fork. Place chopped greens on top of quinoa, let stand 10 minutes, covered.
Transfer each squash to a plate, hollow side up. Fold chard into quinoa, then spoon into squash halves. Top with crumbled Cranberry Foxtrott.
These are recipes that we have found easy and delicious when made with Silvery Moon cheeses. Try them out and let us know how you like them. Also, let us know if you have one to share info@silverymooncheese.com