---
We are again offering shipping of our cheeses. Click on any of our gift items to lean more about them and scroll down to order any of our currently available cheeses.
ROSEMARY'S WALTZ
1 wedge - $7
1 wheel (ca. 2.5lb) - $35
FLAVORED PROBIOTIC YOGURT
Available in 16oz containers.
16oz -$4.50
Maple Vanilla Yogurt
Wild Blueberry Yogurt
Honey Yogurtt
NECk GAITER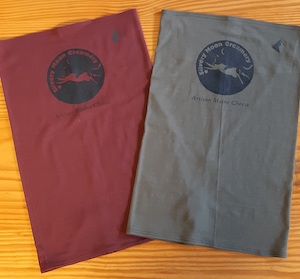 87% Wool, One Size Fits All,  Sage or Cranberry - $28
25% WOOL SOCKS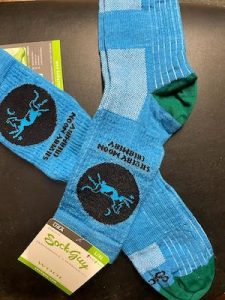 25% Wool Socks -Adult Sizes, S-M or L-XL - $10 pair
100% COTTON T-SHIRT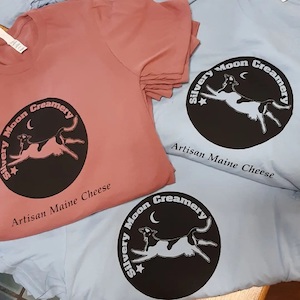 Choice of Mauve or Pale Blue - Adult sizes - $20
Mauve  T-Shirt  - S, M, L
Blue T-Shirt - M, L, XL
Sales & Shipping Information:
Purchase securely through PayPal Payment Service.
• We are happy to ship our cheeses year round throughout the contiguous U.S. Choose from any of the assortments above. You can also contact us for a more customized order.
SHIPPING RATES (order total)

$0 to $13.01 - $12
$13.02 to $35.01 - $20
$35.02 to 50.01 - $25
$50.02 to $200 - $30
• All Gift Box cheese orders include a Maine made wooden slide top box. We had these custom made for us by Nezinscot Guild in Turner, Maine.
• We include information about Silvery Moon Creamery as well as Smiling Hill Farm and a greeting card. If you wish you can specify a customized greeting.
• This is all packaged in a Styrofoam shipping box with frozen gel packs and is clearly marked as perishable.
• Please allow two weeks from the time we receive your order to the time you want the recipient to receive the order. The cheese will ordinarily ship within a week of your order, although our most popular cheeses sometimes have waiting lists. Should that happen, we will contact you and let you know when your cheese will ship. We only ship Monday through Wednesday, to ensure the package does not linger over the weekend.
• If you are sending this cheese as a gift, please let the recipient know that a perishable product is on its way to ensure that they put the cheese in the refrigerator upon arrival.