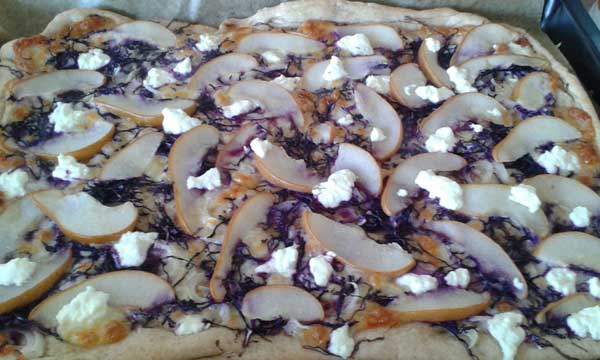 Ingredients (makes 2 sheets):
2.5 cups unbleached flour
1.5 teaspoons active dry yeast
1 pinch salt
3 tablespoons olive oil
½ to 1 cup lukewarm water
2 to 3 local pears
¼ head local red cabbage
1 local onion
olive oil
0.5lb Silvery Moon Queso Oaxaca
0.5lb Silvery Moon Queso de Verano
(or Rosemary's Waltz, Cranberry Foxtrott, or Casco Bay Dulse)
Fresh rosemary
Local honey
To make dough, mix together flour, yeast, and salt. Mix half cup of lukewarm water with the olive oil. Add to dry ingredients. Knead together by hand or with a hand mixer with kneading hook. Add more water to form a soft dough. Rest dough in a covered bowl in a warm place for two hours.
Slice onion and cabbage very thinly. Cut the pears in half, remove core, slice into thin wedges.
Lightly oil two baking sheets. Preheat oven to 390 F.
Divide dough into two portions. Roll out one at a time on a lightly floured surface. Spread out onto oiled baking sheet. Brush with olive oil.
Unravel Queso Oaxaca, pull off strings and cover dough with them. Spread onions, cabbage, and pears. Crumble Queso de Verano (or other fresh cheese) and spread on top. Bake pizza for 15 to 20 minutes. Take out of the oven, sprinkle with fresh rosemary, and drizzle with honey.
These are recipes that we have found easy and delicious when made with Silvery Moon cheeses. Try them out and let us know how you like them. Also, let us know if you have one to share info@silverymooncheese.com