Ingredients:
1 1/3 cups unbleached flour
½ teaspoon baking powder
3/8 cup sugar
1 pinch salt
¼ teaspoon vanilla extract
1 farm fresh egg
3/8 cup soft Smiling Hill Farm butter
1 lb rhubarb stalks
3 farm fresh eggs, separated
1 lb Silvery Moon Creamery Cream Cheese
¾ cup sugar
2 tablespoons lemon juice
2 tablespoons cornstarch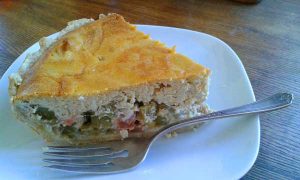 Grease 9 inch pie form. Preheat oven to 400 F.
To make dough, mix together flour, baking powder, sugar, and salt. Add vanilla, egg, and butter. Knead together by hand or with a hand mixer with kneading hook. Roll out on a lightly floured surface and line pie form. Prick the crust with a fork several times.
Pre-bake crust for 10 minutes.
Lower oven temperature to 325 F.
To make the filling, chop rhubarb stalks into ½ inch pieces. Place onto pre-baked crust.
Beat the egg whites until stiff. Mix together cream cheese, sugar, lemon juice, cornstarch, and egg yolks. Fold beaten egg whites into cream cheese mix. Pour mixture over rhubarb.
Bake cheese cake for about 75 minutes until top is golden brown and a tester comes out clean.
Cool completely on a wire rack.
These are recipes that we have found easy and delicious when made with Silvery Moon cheeses. Try them out and let us know how you like them. Also, let us know if you have one to share info@silverymooncheese.com